Hotels/Guesthouses in Bir Tibetan Colony
We recommend staying in the Tibetan Colony to be as close to the landing zone as possible. If you have your own vehicle or don't mind taking a taxi, other areas may also be an option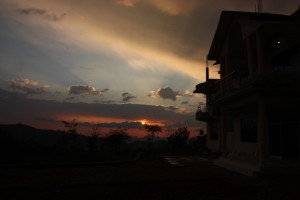 Coco Cottages Bir: A cosy cottage nestled between fields, with views of the Dhauladhar range, paragliders and unbeatable sunsets. Near Ajaypal temple, Bir, Himachal Preadesh. Contact number:8088477808.https://coco-cottage.business.site/
Manoj Homestay: Bir Colony Road, Bir.600 meters from Landing Zone. Pleasant rooms with attached bathrooms and Kitchen. Contact:9816847037.
Emaho Guesthouse: Has a few rooms with attached bath.  +91 (1894) 268-197 or 98162-12678
Palden Guesthouse (Garden Cafe). Electric heated showers. Friendly owners. Very clean. Restaurant with Wi-Fi.
Mohinder and Mohindra Homestay: Clean Spacious Rooms with kitchen and bathroom. Village -Lambahar, 800 meters away from Landing Zone. Contact: 9418676983.
Colonel's Resort, most premium resort in Bir, with ample space and very classy. http://www.colonelsresort.com/
Ramsail Homestays: The Closest place to Landing area, where the ground practice is held. Beautiful Clean rooms. Need to book 1-2 months prior. Contact:8679347146.
Zhim Zhim Hotel: Good clean rooom with TV for those who need them.
KK Homestay: Another budget accomodation very close to Landing Zone. Contact 9816766551.
NOTE: Foreigners (anyone other than Indians, Tibetans, Nepalis, and Bhutanese) wishing to stay overnight in the Bir Tibetan Colony will need to apply for a Protected Area Permit (PAP) from the Indian Government. For information, see this page.
Hotels/Guesthouses in Bir Proper (Upper Bir)
Bhawani Guest House: A quiet place at the west end of Upper Bir with comfortable rooms, attached bathrooms and. Serves Indian meals with advance order. + 91 (1894) 268025,  98574-60215, or 94180-15525
Hotels/Guesthouses in East Chowgan
Colonel's Resort: The most upscale accommodation option in Chowgan, set amid tea gardens. The best rooms are in the newer wing and the cottages. Serves good food with good service. Well-suited for families, groups, and couples. Sometimes hosts student groups, which can be loud, so check in advance. +91 98055-34220