Hotels/Guesthouses in Bir Tibetan Colony
We recommend staying in the Tibetan Colony to be as close to the landing zone as possible. If you have your own vehicle or don't mind taking a taxi, other areas may also be an option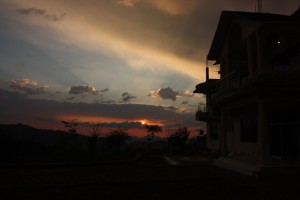 Dzongsar Guesthouse: A guesthouse near Deer Park with somewhat cavernous rooms (can be cold in winter). Sometimes has solar-heated water for showers.   +91 (1894) 251-787
Chokling Guesthouse: Near Chokling Monastery. Pleasant rooms with attached bathrooms and solar-heated showers. Reasonably quiet setting facing the impressive stupa of the monastery. Restaurant serves decent Tibetan food (and veg sushi)    +91 88942-32589 or 88941-12325
Emaho Guesthouse: Has a few rooms with attached bath.  +91 (1894) 268-197 or 98162-12678
Palden Guesthouse (Garden Cafe). Electric heated showers. Friendly owners. Very clean. Restaurant with Wi-Fi.
Hotel Surya Classic: Modern hotel  with attached bath,  hot water, and Wi-Fi internet.   +91 94180-46580
Colonel's Resort, most premium resort in Bir, with ample space and very classy. http://www.colonelsresort.com/
Four rooms/Four tables: an artsy place and a good restaurant http://www.the4roomshotel.com/
Zhim Zhim Hotel: closest accomodation to school building. good clean rooom with TV for those who need them.. 800-1200.
Green Hotel: Another budget accomodation very close to PG-Gurukul classroom.
NOTE: Foreigners (anyone other than Indians, Tibetans, Nepalis, and Bhutanese) wishing to stay overnight in the Bir Tibetan Colony will need to apply for a Protected Area Permit (PAP) from the Indian Government. For information, see this page.
Hotels/Guesthouses in Bir Proper (Upper Bir)
Bhawani Guest House: A quiet place at the west end of Upper Bir with comfortable rooms, attached bathrooms and. Serves Indian meals with advance order. + 91 (1894) 268025,  98574-60215, or 94180-15525
Hotels/Guesthouses in East Chowgan
Bir Resort Hotel: An older place with 12 rooms, hot showers and a restaurant.  +91 (1894) 268-367 or 98106-85753.
Colonel's Resort: The most upscale accommodation option in Chowgan, set amid tea gardens. The best rooms are in the newer wing and the cottages. Serves good food with good service. Well-suited for families, groups, and couples. Sometimes hosts student groups, which can be loud, so check in advance. +91 98055-34220
Sangrai Guesthouse: Nice, small, family-run place tucked off the main Colony Road amidst tea gardens and thus a bit quieter.  +91 (1894) 268.669 or 94184.49669